Verse Of The Day
COACH FOR SALE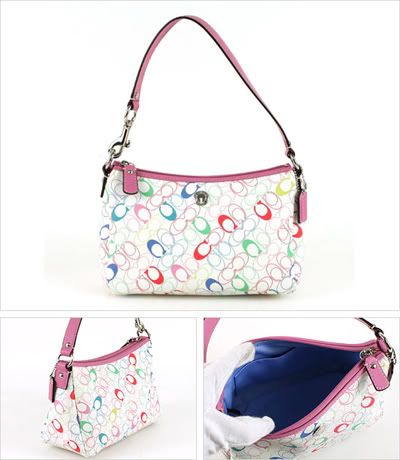 More info
FUN WITH HOUSEWORK
MyBabyBay
Recommended Links
Small Talk

I was having a conversation with Emily before bed time while I was ironing and she was having her milk.

Emily: This is papa's "sam" (aka shirt).
Mummy: Yes, papa sam
Emily: This is kor kor uniform.
Mummy: Yes, kor kor uniform.
Emily: See mummy, got sound one. *making some sound with her leg hitting the bed*
Mummy: Yeap, got sound.
Emily: Mummy, see so funny one.
Mummy: Yeap, so funny. Faster finish up your milk.
Emily: Mummy cannot scold Emily.
Mummy: 😯 Mummy didn't scold you, just asking you to finish your milk.

She is growing to be kind of sensitive. I have to be careful my tone of voice with her. I think she learn it from her kor kor. She does imitate kor kor once in a while like:

Emily: Later buy for Emily yeahhhh…. *give a funny but fake expression*

Emily: Aha! There you ah!

Emily: Oh no, I donno.

Lately she allowed me to dress her up and tie up her hair. She looks so adorable and sweet. Now I can buy more pretty dresses for her.





10 Comments
10 Responses to "Small Talk"
Jan said on September 11th, 2006 at 3:18 pm

Emily looks so grown up in the photos you have taken…..sweet!

Looks like you have to be careful with your words with Emily lor….kekeke…kids these days are super sensitive and smart

ya lar, except left hand side pic, others not look like her ler…she really grown up liao! 🙂

Wow, she looks so ladylike and sweet!
She really grown up a lot! 😆

Magictree said on September 12th, 2006 at 11:23 am

Emily's ever so cute and sweet.

Vien said on September 12th, 2006 at 11:52 am

That's an adorable dress on here! Cute pig tails too!

soooo cute and adorable…enjoy decorating her…

michelle said on September 12th, 2006 at 1:53 pm

Everyone: Emily: Thanks for the compliments. 😀

Huisia: Look lady like?!! She acts like a tomboy, very fierce too.

She's really growing up..

I really like to hear little kids talk.. the way their miind works. :p

hehe so nice can have conversation while ironing…

maria @ twinsmom said on September 14th, 2006 at 1:59 pm

aiyoh…. please change their picture at your sidebar, it is kind of astonishing to see Emily suddenly become a young lady in the beautiful dress.