Verse Of The Day
COACH FOR SALE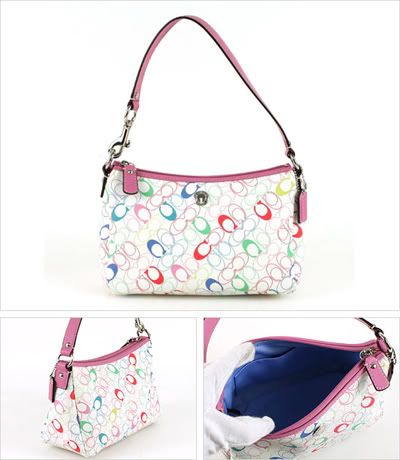 More info
FUN WITH HOUSEWORK
MyBabyBay
Recommended Links
Michelle Not Michael!

Today I got a call from a promoter or should I call him a salesman. Anyway, although I was busy, I didn't want to be rude and entertain him a little. Maybe I was in a good mood after my half yearly routine doctor checkup. No bad news from doctor which is good.

Back to the conversation with the salesman:

Me: Hello Michelle speaking
S: Hello may I speak to Miss Michael. *wanted to say wrong number*
Me: This is Michelle speaking
S: Miss Michael, are you free? *He was speaking in Bahasa Malaysia although I answer in English*
Me: I am Michelle, not Michael *roll eyes*
S: Sorry, Miss Michelle are you free?
Me: Not really, I am working. *I had to answer in BM*
S: I am from bla bla bla, you have been selected specially to enjoy this package.. bla bla bla.
Me: What package?
S: Insurance blab la bla.
Me: Sorry I am not interested. Thank you.
S: Bla Bla Bla..Thank you.
Me: Bye

If you want to promote something, at least get your customer's name pronounced correctly. This is not the first time I hear people calling Michael. Even after I corrected them, they still call me Michael. How annoying!

Oh this only happen to a particular group of people if you know who I am referring too. By the way, they like to call my son Ti-Mot-Ti and my gal Em-Ma-Li. *roll eyes*

Guess what my English teacher, yes English teacher called me? She called me Mit-Che-Li in front of a hall of people. It was not embarrassing for me but for her. *roll eyes* I always wonder, didn't tell ever hear the famous song from Beatles.

Michelle (Beatles Lyric)
(Lennon/McCartney) Lead Vocal: McCartney

Michelle, my belle.
These are words that go together well,
my Michelle.

Michelle, my belle.
Sont les mots qui vont tres bien ensemble,
tres bien ensemble.

I love you, I love you, I love you.
That's all I want to say.
Until I find a way
I will say the only words I know that
you'll understand.

Michelle, my belle.
Sont les mots qui vont tres bien ensemble,
tres bien ensemble.

I need to, I need to, I need to
I need to make you see,
oh, what you mean to me.
Until I don I'm hoping you will
know what I mean.

I love you.

I want you, I want you, I want you.
I think you know by now
I'll get to you somehow.
Until I do I'm telling you so
you'll understand.

Michelle, my belle.
Sont les mots qui vont tres bien ensemble,
tres bien ensemble.

I will say the only words I know
that you'll understand, my Michelle.

Published on April 18, 2008 · Filed under:

Myself

;

11 Comments
11 Responses to "Michelle Not Michael!"
wen said on April 18th, 2008 at 10:39 pm

wah a lot of diff between those two names leh

Shooi said on April 18th, 2008 at 10:50 pm

yeah, i get calls like these too. i get really pissed off. want to sell me something, at least converse in the language that i am using and pronounce my name correctly

miche said on April 18th, 2008 at 11:24 pm

the same happened to me all the time. my own Malay colleague is still calling me Mitchelin (i think that's the tyre brand). My History teacher (Malay) loves to sing the Michelle, my Belle song every time b4 he calls me to answer his question. 🙂

Vien said on April 19th, 2008 at 5:09 am

Wakakakakaka…your ENGLISH teacher called you that?? She needs to go back to school lor!

jazzmint said on April 19th, 2008 at 10:28 am

haha ur english teacher apa nama? Last time one of my english teacher oso quite teruk

michelle said on April 19th, 2008 at 11:29 am

Jazzmint: Puan C.L., if you still remember her.

alicia said on April 19th, 2008 at 1:45 pm

wah how come she can b english teacher when she doesnt even know how to pronouce ur name leh… not difficult ma to pronouce

Mamajo said on April 21st, 2008 at 1:49 pm

I hate this kind of phone salesperson…..

chinnee said on April 22nd, 2008 at 1:22 pm

mich, still remember the story of Mr Ling Lee? haha…..miss our daily emails now!

Julian said on April 26th, 2008 at 10:09 am

I agree, such telemarketers can be so annoying. Even worst is receiving 5 different callers asking for the same promo!

Yah.. I hate it too! Those telemarketeers can't even get ppl's name right and want to call up to promote their product!