Verse Of The Day
COACH FOR SALE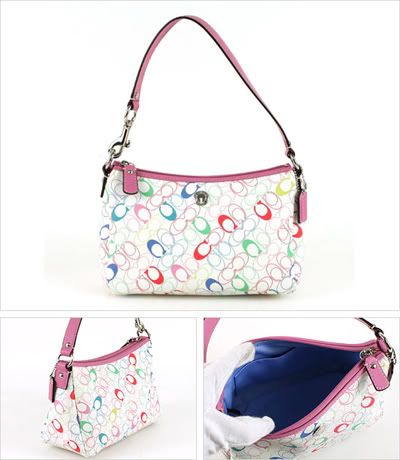 More info
FUN WITH HOUSEWORK
MyBabyBay
Recommended Links
Making A Gal Pretty

Last Raya Holidays, I was down in KL with my family. We had to get a white pair of shoe for Emily's concert. We shopped in Mid Valley and she was so excited because we were shopping for her white shoes. There were a few pairs but some were too small and some were too big. Finally found 1 that she like and had the right size.





I also got a pretty orange cloth for Jess to sew a dress for her. I cannot wait for Jess to send that to me.

Papa always complained that Emily has messy hair. We wanted to get her a hair band. We went to this shop called Sinma. I saw a few nice hair bands for Emily. She loved it. She also wanted a necklace and a ring to go with it. Fortunately for my pocket, they have a set with hair band, ring, clips and necklace. Here is what makes a gal pretty…







Hop over to parkbay.net to check out why I am so happy today.

Published on October 22, 2008 · Filed under:

Parenting

;

14 Comments
14 Responses to "Making A Gal Pretty"
miche said on October 22nd, 2008 at 7:42 am

she look so pretty with the headband on. i got the hairband too; the one with roses but you hv to be extra careful when tying, the roses easily tercabut!

Little princess!!
Where's the picture of her with all her accessories?

Mamajo said on October 22nd, 2008 at 12:42 pm

That's the best part of having a daughter….The headband really nice on her….with so many accessories, she will definitely look great. The shoe is nice too

That hairband is so pretty.

she is sooo pretty..the hairband look nice on her…

Very nice white shoes and hairband! Your Emily is just as vain as my #2!

wen said on October 22nd, 2008 at 10:55 pm

i like the shoes, like princess shoes!

Jesslyn said on October 23rd, 2008 at 8:50 am

Dun threw away your tutu left over cloth, can use it to make hair bands like the one u bought above, buy small flower and sew on…:)

btw, i like the white shoe..so princess look!

Annie Q said on October 23rd, 2008 at 1:14 pm

She look so pretty with her new hair band.

The shoes and headband r really sweet. But the rubber bands r rather huge, no? 😀

chinnee said on October 25th, 2008 at 1:02 pm

when girl gets bigger,they wanna be pretty. qiqi gets lots of influence from her friends in school too.

I cannot show Zara any of these.. or she'll want some too.

I'm still hunting for the material you used to make her the tutu… tough luck in this part of the town.

Ahhh so sweet!!!!!! I must try very hard to get a bb girl next 🙂

chooi peng said on October 28th, 2008 at 1:51 pm

wow, you bought a few of it ah! and the shoes is nice..